Lung Cancer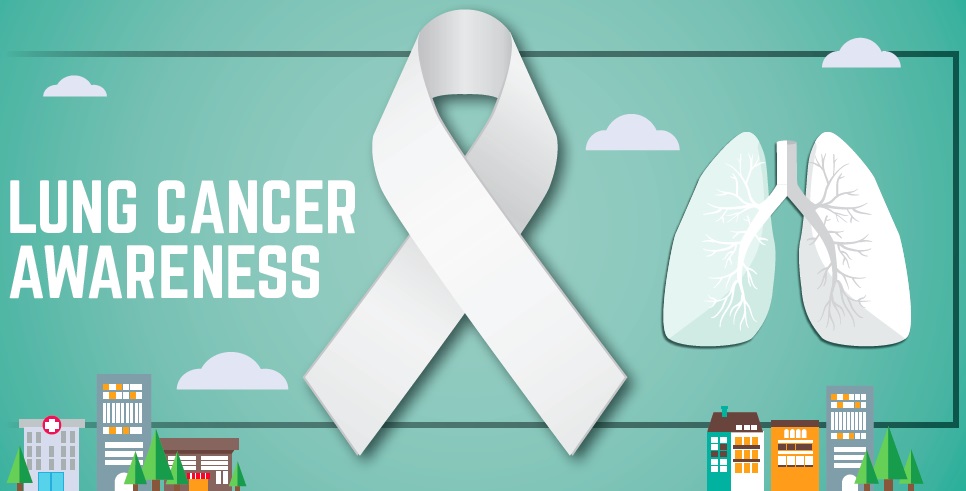 Brought to you by




Symptoms that may be seen when lung cancer has spread include:
Feeling tired or weak
Unexplained weight loss
Bone or joint pain
Unexplained broken bones
Headaches and visual disturbances
Blood clots or bleeding
Unsteady movement or seizures
Memory loss
Neck or face swelling
Abdominal pain or swelling
Any persistent, unusual or unexplained symptom should be checked out by a doctor.
RISK & PREVENTION OF LUNG CANCER
Lung cancer is the uncontrolled growth of abnormal cells in one or both lungs. As they grow, the abnormal cells can form tumours, and interfere with the functioning of the
lung, which provides oxygen to the body via the blood. Lung cancer is amongst the top five most common cancers in South Africa. Almost twice as many men get lung cancer compared to women.
The National Cancer Registry states that, in 2014, 2727 cases of lung cancer were reported in South Africa.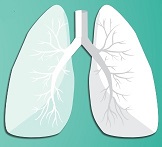 THERE ARE TWO MAIN TYPES OF LUNG CANCER:
Non-small cell lung cancer (NSCLC). NSCLC is the most common type of lung cancer, making up over 90% of all cases, and include lung adenocarcinomas (~60%), squamous cell carcinomas (~30%), and large cell carcinomas (~10%).
Small cell lung cancer (SCLC) makes up about 10% of all lung cancer cases. Although SCLC is less common, it is the most fastest growing cancer which spreads rapidly to other parts of the body, including the brain.
WHAT CAUSES LUNG CANCER?
Smoking causes the majority of lung cancers both in smokers and in people
exposed to second-hand smoke. But lung cancer also occurs in people who have
never smoked and in those who have never had prolonged exposure to second-hand smoke.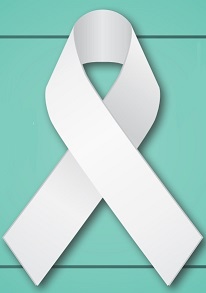 Other risk factors include:
Exposure to radon, asbestos, and/ or industrial chemicals. Radon, asbestos, arsenic, beryllium and uranium have all been linked to lung cancer. Anyone who has worked with them may have an increased risk, especially if they are also smokers.
A history of cancer in another part of the body. People with a history of head and neck cancer or oesophageal cancer, both associated with tobacco use, are at higher risk
People who have had breast, colon, or prostate cancer, are at increased risk, although this is small.
Age. Lung cancer risk increases with age. Only about 10% of cases occur
in people younger than 50.
Family history. If one of your parents, brother or sister has had lung cancer,
your risk may increase, although this is small.
Other lung diseases. Chronic obstructive pulmonary disease (COPD), interstitial lung disease, rheumatoid lung disease and tuberculosis (TB) may increase lung
cancer risk. Scarring of the lungs from other diseases may set the
stage for lung cancer, especially adenocarcinoma.
Acquired genetic mutations. This is particularly common (up to 40%)
in younger lung cancer patients of Eastern Asian origin, including Chinese and Japanese.
LUNG CANCER STARTS WHEN CELLS OF THE LUNG BECOME ABNORMAL AND BEGIN TO GROW OUT OF CONTROL. AS MORE CANCER CELLS DEVELOP, THEY CAN FORM INTO A TUMOUR AND THEN SPREAD TO OTHER AREAS OF THE BODY.
WAYS TO PREVENT LUNG CANCER:
Don't smoke. If you've never smoked, don't start. Talk to your children about not smoking so that they can understand how to avoid this major risk factor for lung cancer. Begin conversations about the dangers of smoking with your children early so that they know how to react to peer pressure.
Avoid second-hand smoke. If you live or work with a smoker, urge him or
her to quit.
Avoid carcinogens (cancer-causing substance) at work. Take precautions
to protect yourself from exposure to toxic chemicals at work. Follow your employer's precautions. For instance, if you're given a face mask for protection, always wear it. Ask your doctor what more you can do to protect yourself at work. Your risk of lung damage from workplace carcinogens increases if you smoke.
LIKE ALL CANCERS, LUNG CANCER IS BEST TREATED WHEN CAUGHT EARLY
TIPS TO HELP YOU GET YOUR QUESTIONS ANSWERED
Your health care team should make time to explain the treatment options and answer your questions. Here are some tips to help you communicate better with the members of the team:
Consider writing your questions down before your appointment. This can lower your stress level. Bring a notebook or a tape recorder to the appointment.
During the appointment, write down the answers or make an audio recording. You can also ask a family member or friend to record them for you. This will allow you to read or listen to the information later and take the time you need
to process it. Please note that you should inform the doctor that you are recording the appointment.
Tell your health care team if you are having trouble understanding an explanation or certain medical words.
Let your doctor know if you are interested in seeking a second opinion. Most doctors understand the value of a second opinion. Your current doctor may even be able to recommend another doctor.
Ask your health care team where you can find additional information or printed materials about your condition. Many offices have this information readily available.
Talk with your health care team about the information you have found on the Internet or in books or magazines. You must be careful as not all printed or electronic information is accurate and reliable.

Medical References
This educational material has been approved by: · NDOH · Professor of oncologist : Prof Ruff · C4C medical advisor The material is aligned with the government policies in which c4c are members of.