Joint Health
Medical References
1. Hochberg MC, Martel-Pelletier J, Monfort J, et al. Combined chondroitin sulfate and glucosamine for painful knee osteoarthritis: a multicentre, randomised, double-blind, non-inferiority trial versus celecoxib. Ann Rheum Dis 2015; Published Online First: 2015 February 13 doi:10.1136/annrheum dis-2014-206792. 2. Ickinger C, Tikly M. Current approach to diagnosis and management of osteoarthritis. SA Fam Pract 2010;52(5):382-390. 3. Poinier AC. 2013. Joints Often Affected by Osteoarthritis. WebMD. Available from: http://www.webmd.com/osteoarthritis/joints-often-affected-by-osteoarthritis. Accessed 2015 March 17. 4. Balmaceda CM. Evolving guidelines in the use of topical nonsteroidal anti-inflammatory drugs in the treatment of osteoarthritis. BMC Musculoskeletal Disorders 2014;15:27-31. 5. Altman RR. 2013. Degenerative Joint Disease; Osteoarthrosis; Hypertrophic Osteoarthritis. Merck Manual for Health Care Professionals. Available from: http://www.merckmanuals.com/professional/musculoskeletal_and_connective_tissue_disorders/joint_disorders/osteoarthritis_oa.html. Accessed 2015 March 17. 6. Sinusas K. Osteoarthritis: Diagnosis and Treatment. Am Fam Physician. 2012;85(1):49-56. 7. Placeholder. 8. National Institute for Health and Care Excellence. Osteoarthritis: Care and Management in Adults. NICE Guideline 177. 2014 February. Available from: http://www.nice.org.uk/guidance/cg177. Accessed 2015 March 19. 9. Hochberg MC, Altman RD, April KT, et al. American College of Rheumatology 2012 Recommendations for the Use of Nonpharmacologic and Pharmacologic Therapies in Osteoarthritis of the Hand, Hip, and Knee. Arthritis Care & Research 2012;64(4):465-474.
Osteoarthritis (OA), the most common form of arthritis, occurs when the cartilage that protects and cushions the joints breaks down over time causing severe pain.
What is osteoarthritis?
Osteoarthritis (OA) is the most common form of arthritis. 1 a p1, 2 a p382
It occurs when the cartilage that protects and cushions the joints breaks down over time. Eventually, the bones, which are separated by the cartilage rub against each other. This leads to tissue and bone damage and causes painful joint symptoms. 3 a p1
OA can also result in emotional stress, fatigue, and impaired sleep, all of which may significantly impact quality of life. 1 a p1, 4 a p1
Osteoarthritis most commonly affects the hips, knees, hands, feet and spine and often requires long-term treatment to manage symptoms and prevent long-term complications. 4 b p1, 5 a p4, a p5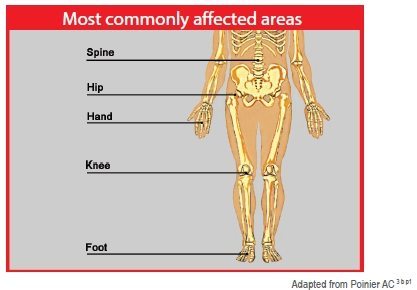 What causes OA?
In most instances, the OA trigger is unknown, but OA sometimes begins
with tissue damage from an injury, inflammation, or defects in the way your
body breaks down cartilage. 5 a p2, a p3
There are two type of osteoarthritis:
Primary (idiopathic) OA which occurs in previously undamaged joints 2 a p383
Secondary OA caused by trauma, abnormalities in the anatomy,
rheumatoid or other inflammatory diseases, and disorders of the
metabolic or endocrine systems 2 b p383
Who is affected?
The symptoms of OA often appear in 40 to 50 year olds, and OA of the hands, knees and hips consistently increases with age. More than one third of adults 60 years and older will experience changes caused by osteoarthritis, though only 12 % will experience symptoms. 2 b,c p382, 5 a p1
By the age of 80, most people have OA in one form or another. 5 a p1
In fact, it is estimated that OA will become the fourth leading cause of
disability by the year 2020. 2 d p382
Risk factors may vary between different joint sites 2 e p382
Knees 2 e p382
Older age
Obesity
Female gender
Previous knee injury
Activity involving kneeling, stooping or crouching
The presence of hand OA
Low vitamin D and C intake
Hands 2 f p382
40 years of age
Female gender
Family history
Occupation
Obesity
Signs and symptoms
The onset of OA is often gradual, usually affecting one or a few joints and often affects only one side of the body. 5 b p4, 6 b p49
Pain often described as a deep ache is the earliest symptom and, usually made worse by weight bearing, can eventually become constant. People often experience stiffness when they wake up or haven't been active, but this lasts less than 30 minutes and eases with movement.
As the OA progresses, movement in the affected joint becomes restricted, and tenderness and grating sensations (called crepitus) develop. Eventually, due to changes in the anatomy, the joint will become enlarged.2 a p385, 5 b p4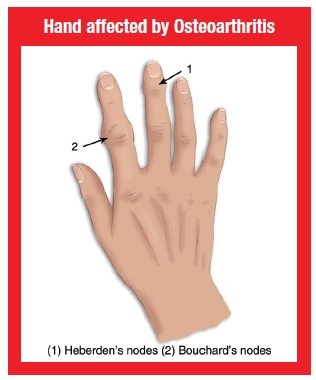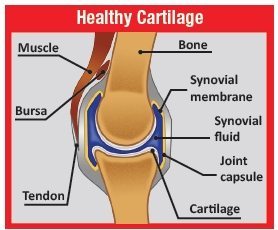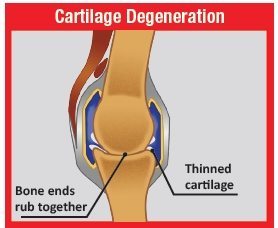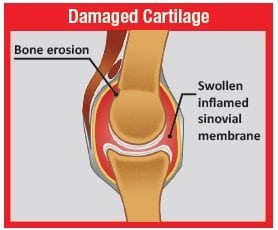 In addition to causing pain, osteoarthritis reduces function and impacts on a person's ability to carry out their day-to-day activities. Pain also affects mood, sleep and the ability to cope 8 a,b p4 NICE guidelines
Treatment options
Current treatments are aimed mainly at pain control and limiting disability.
The management of OA involves preventative measures as well as pharmacologic and non-pharmacologic approaches, which should be tailored to individual needs. 2 g p382, a p387, 5 a p7, 9 a p465 ACR
Preventative measures
Regular exercise helps to reduce pain and long-term disability and improves functional capacity. 2 a p388, 6 d p49, 9 a p469, a p471 ACR Weight loss improves pain and function, particularly for knee OA and, to some degree, hip OA. Eating correctly and exercising can help to achieve a healthy weight. 2 b p388, 9 b p465, a p469, b p471 ACR
Pharmacologic treatment
Standard treatments focus on relieving symptoms with analgesics and non-steroidal anti-inflammatory drugs (NSAIDs). 1 b p1, 9 b p465 ACR
NSAIDs applied locally to the affected joint are a recommended treatment option especially in older people. While NSAIDs are effective in relieving symptoms, oral NSAIDs have been linked to an increased risk of cardiovascular and gastrointestinal side effects in certain instances. 4 c p1 Local injection with corticosteroids is an alternative treatment option. 8 a p17 NICE, 8 a,b,c p470 ACR
Non pharmacologic treatment
When taken together, the supplements glucosamine and chondroitin can be effective for symptomatic relief of knee osteoarthritis. 6 d p49
Glucosamine and chondroitin can provide an alternative treatment option, especially for people with cardiovascular or gastrointestinal conditions who cannot take NSAIDs. 1 a p5
Useful tips for people with OA of the knee and hip:
Wear shoes with soft thick soles, ones without raised heels 2 c p388
Use a cane, frame or wheeled walker to help to ease pain by reducing the weight placed on the joint 2 d p388, 9 b p469, c p471 ACR
Knee braces should be used only when there is a flare of inflammation and to protect the joint during excessive or unusual physical activity 2 e p388
Thermotherapy (use of heat or cold) and transcutaneous electrical nerve stimulation (TENS) may also help to relieve pain 2 f p388, 9 b p469, c p471 ACR
Total joint replacement of the hip, knee, or shoulder is recommended only for patients with chronic pain and disability. In other words it is recommended if the pain significantly affects quality of life despite the use of pharmacologic and non-pharmacologic therapy. 6 e p49