Eczema
Medical References
Luger T, De Raeve L, Gelmetti C, Kakourou T, Katsarou A, Lambert J, et al. Recommendations for pimecrolimus 1 % cream in the treatment of mild-to-moderate atopic dermatitis: from medical needs to a new treatment algorithm. Eur J Dermatol 2013;23(6):758-766
Jensen J-M, Pfeiffer S, Witt M, Bräutigam M, Neumann C, Weichenthal M, et al. Different effects of pimecrolimus and betamethasone on the skin barrier in patients with atopic dermatitis. J Allergy Clin Immunol 2009;123:1124-1133
Eichenfield L, Tom W, Chamlin S, Feldman S, Hanifin J, Simpson E, et al. Guidelines of care for the management of atopic dermatitis. Section 1: Diagnosis and assessment of atopic dermatitis. J Am Acad Dermatol 2014;70:338-351
Draelos Z. Use of topical corticosteroids and topical calcineurin inhibitors for the treatment of atopic dermatitis in thin and sensitive skin areas. Curr Med Res Opin 2008;24(4):985-994
Wahn U, Bos J, Goodfield M, Caputo R, Papp K, Manjira A, et al. Efficacy and Safety of Pimecrolimus Cream in the Long Term Management of Atopic Dermatitis in Children. Pediatrics 2002;110(1)
Spergel J. Immunology and Treatment of Atopic Dermatitis. Am J Clin Dermatol 2008;9(4):233-244
Yosipovitch G, Hundley J. Practical Guidelines for the Relief of Itch. Dermatology Nursing 2004;16(4):325-328
Lyons JJ, Milner JD, Stone KD. Atopic Dermatitis in Children: Clinical Features, Pathophysiology and Treatment. Immunol Allergy Clin North Am. 2015;35(1):161–183
Australian Society of Clinical Immunology and Allergy. 2019. ASCIA Information for Patients, Consumers and Carers. Available from: https://www.allergy.org.au/images/pcc/ASCIA_PCC_Eczema_2019.pdf [01 July 2019]
Eichenfield L, Tom W, Berger TG, Krol A, Paller AS, Schwarzenberger K, et al. Guidelines of care for the management of atopic dermatitis. Section 2: Management and treatment of atopic dermatitis with topical therapies. J Am Acad Dermatol 2014;71:116-132
Allergy Foundation of South Africa. Atopic Eczema / Atopic Dermatitis. Available from: https://www.allergyfoundation.co.za/wp-content/uploads/2016/11/28-eczema.pdf [31 July 2019]
Saeki H, Furue M, Furukawa F, Hide M, Ohtsuki M, et al. Guidelines for management of atopic dermatitis. J Dermatol 2009;36:563–577
Crichton-Stuart C. 7 types of eczema: Symptoms and causes. Medical News Today. Last reviewed 11 July 2018 Available from: https://www.medicalnewstoday.com/articles/322435.php [01 August 2019]
Eichenfield L, Lucky A, Boguniewicz M, Langley R, Cherill R, Marshal K, et al. Safety and efficacy of pimecrolimus (ASM 981) cream 1 % in the treatment of mild and moderate atopic dermatitis in children and adolescents. J Am Acad Dermatol 2002;46:495-504
Mylan (Pty) Ltd Reg. No: 1949/035112/07.
Building 6, Greenstone Hill Office Park, Emerald Boulevard, Modderfontein, 1645.
Tel: (011) 451 1300 Fax: (011) 451 1400 www.mylansa.co.za
M2809 Aug-19
Explains the causes of eczema and treatment thereof

Eczema, also called atopic dermatitis, is a chronic recurring disease. This means that the disease is always present, even though flares may come and go. 1, 3 It occurs mainly in children, with 80 % of patients experiencing symptoms by the time they are 5 years old. 4, 5 The symptoms of eczema include dry, inflamed skin and intense itching. 1, 4
What is an Eczema flare?
Episodes where the skin becomes red, flaky and very itchy are called flares. 6 These flares often occur on areas of sensitive skin, such as the eyelids, behind the ears, other parts of the face and in the folds of joints. 4
How does it affect you?
Many children with eczema feel embarrassed by the look of their skin, the constant itching and the ongoing, sometimes involuntary scratching.1,3
These flares have a major impact on various aspects of the person's life, affecting school performance and productivity, disturbing sleep and altering self-esteem, mood and the ability to establish and maintain relationships.1 Spergel Surveys have shown that most people with eczema are worried about their next eczema flare. 1,6

Eczema is thought to be caused by a combination of genetic and environmental factors that cause the skin barrier to break down and trigger an abnormal immune response.1,8

Eczema triggers
Allergens, stress or infections, contact with pets or pollen, chemicals and soaps, changes in weather and temperature and food sensitivities. 9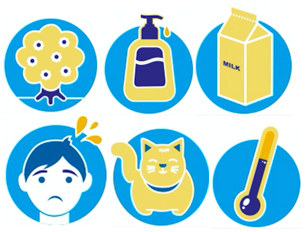 Is Eczema Hereditary?
Roughly 70 % of patients with eczema have a family history of atopic diseases such as allergic asthma or allergic rhinitis. There is a 2 to 3 times higher chance of a child having eczema if one parent has it, and this increased to 3 to 5 times if both parents are affected. A child is also more likely to have eczema if their mother has it. 3

Treatment options for eczema include: emollients, topical corticosteroids, topical calcineurin inhibitors, wet wrap therapy, phototherapy and anti-histamines 6,10 Moisturising ointments or emollients are the most important treatment for eczema as they work by making an oily layer on top of the skin, preventing the water from getting out and the skin from becoming dry. 6,10
Moisturising ointments are the most important treatment for eczema and should be applied in large quantities and frequently. 6 A moisturizer, such as an emollient, can improve dry skin and help prevent flares. You can carry on using an emollient, even during a flare. 10, 11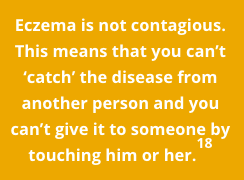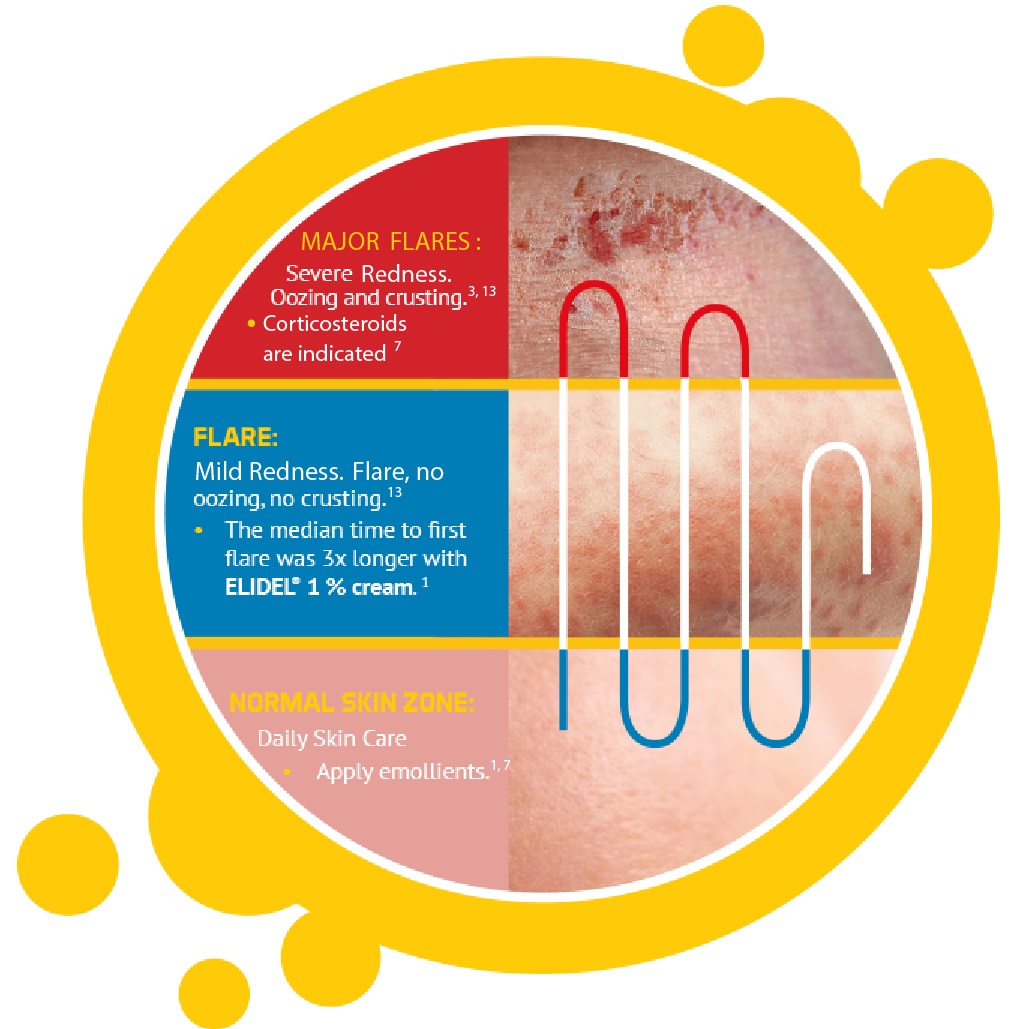 Moisturise often with an emollient 6 ,10,11
Bath once a day for 5-10 minutes in lukewarm water (not hot) and then apply an emollient within 3 minutes 6, 10
Don't rub the skin pat dry instead 6
Use a non-perfumed soap 6
Avoid harsh washing powder and fabric softeners 6
Don't scratch 6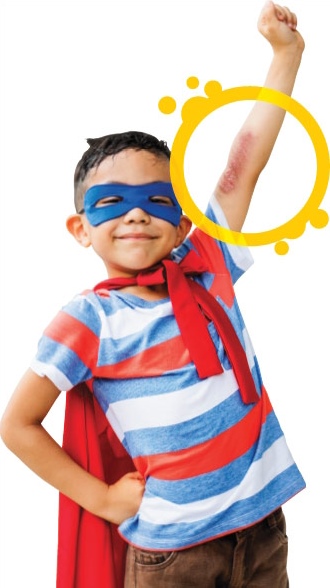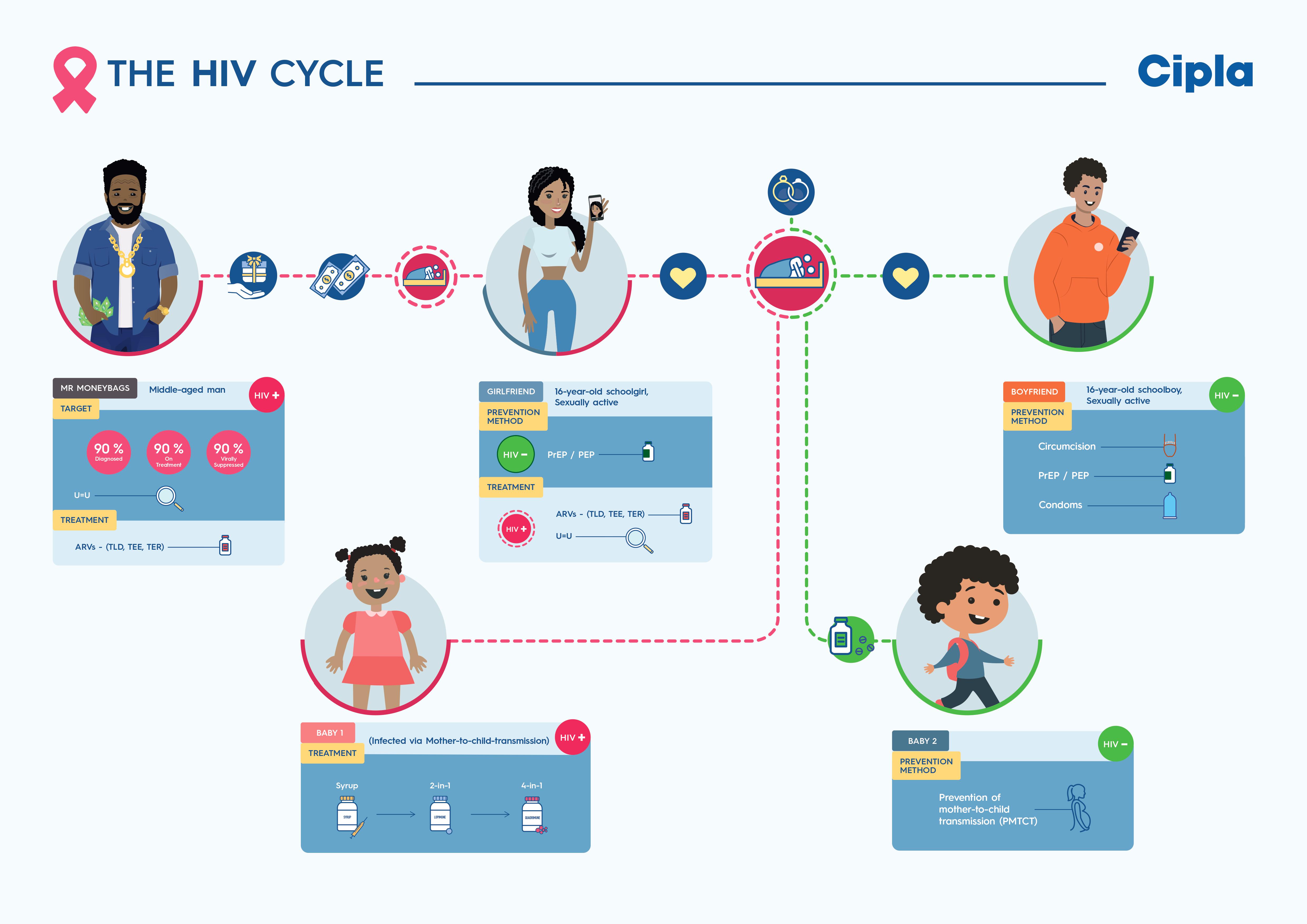 Please note: This is an educational information leaflet only and should not be used for diagnosis. For more information on eczema, consult your healthcare professional.